At this point, it is nothing new that Facebook is testing new features that closely resemble those used by Snapchat. It seems they have even made the camera their feature focus for interfacing.
For Android and iOS, there are also new filters and 3D masks, also a copy of Snapchat. However, unlike Snapchat, Facebook's Messenger base has more than a million monthly active users.
The new camera button now appears as a blue ring in the middle of the home screen tab. All you have to do in order to get started is to simply take the camera, which takes you directly to the new interface. At this time, you can choose to take a picture, record video or just open a picture that you already have in your gallery.
To choose a picture that you have previously taken, tap on the picture symbol located in the left corner, on the bottom. You can then edit that picture in your manager section.
One of the most popular features is the blank canvas, opened by tapping the palette icon on the right in the bottom. Here, you can add text, filters and more to add to a picture of video that you can take directly afterwards. You can also access this feature by simply swiping left from the main camera screen.
For picture taking, you can use the front or rear camera, adding filters and 3D masks after clicking a picture, or before you start recording video. Tap on the smiley icon for your choice of masks. They are separated into different libraries including, for instance, Dress Up, Express Yourself and Decorate. You can also choose from an "I'm feeling…" library as well, adding sentiments such as "feeling happy", "sending hugs" and more. In similar libraries you can also find "I'm doing…", "Who's up for…" and "Everyday fun" libraries as well.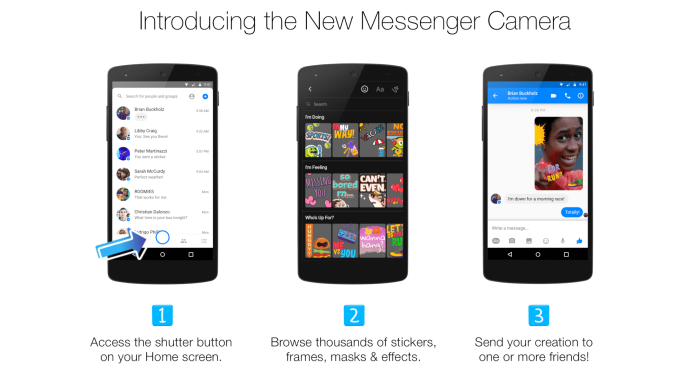 You can also choose to add text to pictures by tapping the "Aa" icon, which will immediately bring up a color palette so that you can choose what color you would like your text. When you are finished writing, just click "Done" and it will then be superimposed.
When you make your filtering decision, just point and shoot and choose to save from the bottom left of the screen, where there will be down arrow. This saves your picture to your phone or SD card. The right arrow allows you to share the picture with your Messenger friends.